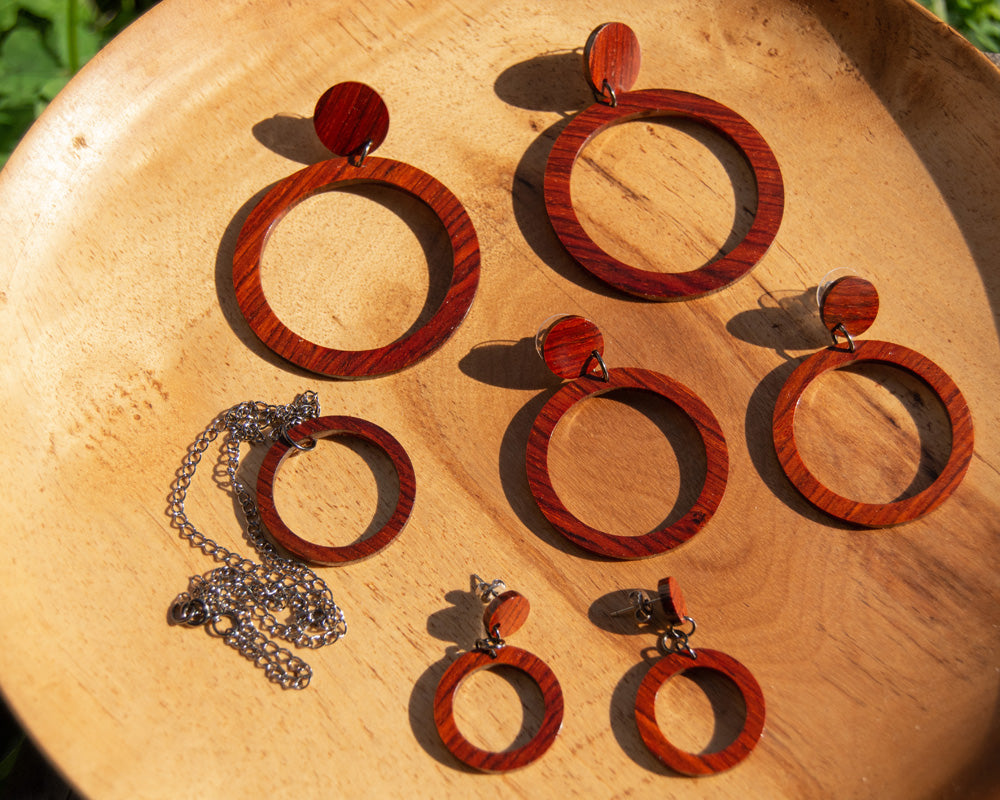 Cocobolo Wood Hoops-3 sizes
---
Free Shipping, minimum $35 purchase
Low stock - 2 items left

Inventory on the way
---
We unearthed a unique reddish-tightly striped piece of cocobolo and decided to make something BIG out of it.  There are only a few pair of each size.....
They look AMAZING against auburn hair!
Large
hoop diameter: 2 and 1/4in inches (55mm)
stud diameter: 11/16in (18mm)
overall length: 3in (76mm)

Medium
hoop diameter: 1 and 11/16in (43mm)
stud diameter: 1/2in (14mm)
overall length: 2 and 3/8in (60mm)

Small
hoop diameter: 1in (26mm)
stud diameter: 3/8in (10mm)
overall length: 1 and 3/4in (44mm)


Mahogany Hoops are shown on model with small earlobes.

Thickness is a bit variable depending on how much they get sanded down. But they usually turn out between 1-2.5mm

Posts are 21 gauge (standard piercing gauge)

Order Processing:
My family and I hand-make all our products, so we need between 1-3 days to make your wood and poly clay jewelry.

Shipping:
US: We use USPS Ground Advantage and ship from our home studio in California. Rates run from low $4 on the West Coast to close to $5 on the East Coast.

International: Base rate stays the same no matter how many pairs you order. Rates start at approx. $16 USD

Free Shipping:
Orders $35 and above qualify for free shipping!
US only

Each pair is handmade from real wood and sanded multiple times to create a very soft, smooth finish. The final touch is a few coats of shellac or polyurethane to help the grain really stand out.

Post material: Hypoallergenic titanium (these are lead free and nickel free).

Posts are 21 gauge (standard piercing gauge), we supply butterfly backs with the small size hoops and larger plastic backs for large and medium size hoops..

Wood grain is very unique, and each pair of wood earrings will look a little different! So your pair will not look exactly like the pic, but I always send out beautiful earrings….
Also, keep in mind monitor settings can be different from screen to screen, so the color might vary slightly from what is pictured.

As with all handmade items, handle with care.

These are real wood! Remember how your Mom would yell at you for leaving a cold drink on the wood coffee table without a coaster? Water leaves marks on wood…. Remove before showering and/or swimming.